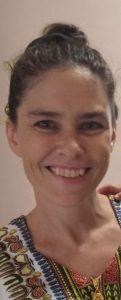 "Julia is an extraordinary coach. I have heard people describe working with her as "magical." Tender, compassionate, and holding you in a beautiful energetic embrace, she gently challenges you to change your mindset, shift your thinking, unconditionally accept your self and your emotions while moving toward a more expansive life of self-expression and fulfillment. In working with her I was able to reconnect to my sense of purpose and contribution to the world, understanding that it would come about through true self-honoring. Julia's work is enhanced by her experiences of traveling and living around the world, communicating cross-culturally and multi-lingually, engaging in international development and human rights work, and experiencing her own personal and professional process of growth. Anyone who works with her will be truly blessed."
Juliana P.
I work with women who want to go past overwhelm and self-doubt, who want to and know they are about to expand their consciousness, but never got the hang of meditation, yoga and all the spiritual circus. I show them how they can turn around their biggest frustrations and fears to become their greatest opportunities for growth. I take them to a place where they live their lives in confidence and with a peaceful mind.
Let's talk and change the game for you.